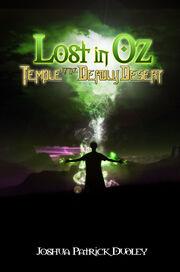 The third and final installment in the Lost in Oz trilogy.
Joshua, Tamara, Laura and Tommy have spent the past two years battling their destinyin the Land of Oz. Their presence has permanently altered the magical land beyondrepair and their prophecy is still unfulfilled.
The teens have made it safely home to New Hampshire, that is, except Joshua, who is lying in a coma, and another member of the team who has perished in the same tornado outbreak that once brought them to Oz.
The group must again, travel together to the Land of Oz, and once and for all find a way to derail or fulfill their prophecy. They must unlock the secrets of the Temple of the Deadly Desert, and find a way to cross the lethal sands surrounding it.
Will the teens fulfill their prophecy?
Does the Temple of the Deadly Desert exist?
Can they bring a fallen friend back to life?
All these questions and more will be answered in the third and final installment of the Lost in Oz trilogy: Temple of the Deadly Desert
Ad blocker interference detected!
Wikia is a free-to-use site that makes money from advertising. We have a modified experience for viewers using ad blockers

Wikia is not accessible if you've made further modifications. Remove the custom ad blocker rule(s) and the page will load as expected.