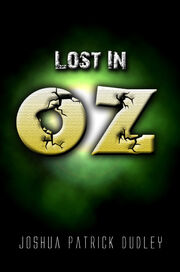 Lost in Oz is a novel written by
Joshua Dudley
and published by
Lulu Publishing
in 2007, and is a continuation of
the Wonderful Wizard of Oz
by
L. Frank Baum
.
Synopsis
Edit
Lost in Oz relates the adventures of four modern day, New Hampshire residing teenagers, Joshua Dudley and Tamara Dudley along with their friends, Tommy Murphy and Laura Coleman, as they travel down the yellow brick road, after being brought to Oz in a random tornado outbreak.
Along the way, they will come to terms with aspects of this amazing fantasy world and how it affects them personally; be it a realization about their inherent natures or a rationalization of the dark deeds that they need to commit in order to get home.
Readers will be surprised when they meet Dorothy Gale and her friends for the first time. Dorothy, Scarecrow, Tin Woodsman and the Cowardly Lion aren't quite as nice as they used to be. They are more paranoid and on edge.
As the characters retrace Dorothy's famous path, things begin to change, and the original story is completely altered by their interaction with it. A new prophecy for Oz and its people is revealed and the characters must act quickly to restore Oz to it's original state of being.
A chance interaction with Bastinda, the Wicked Witch of the West, leads the teenagers to do battle with her and her army as she suspects they are working with Dorothy. All kinds of new characters were created by Joshua Dudley and mixed in with some classic Oz favorites; Jack Pumpkinhead and Scraps the Patchwork Girl both make vital appearances.